SAE 100R1AT single steel wire braided hose is a typical medium pressure hydraulic hose and strongly recommended for hydraulic lines or general industrial system. High tensile strength steel wire reinforcement makes SAE 100R1 hose support higher pressure than common steel wire does.
Complete Range of Size from 3/16" to 4"
Various Color: Black, Red, Blue, Yellow, Gray
Different Surface: Smooth or Wrapped
Different Marking: Printing or Engraved
Tube: Oil resistant synthetic rubber
Cover: Abrasion and weather resistant synthetic rubber
Temperature range: -40 degree centigrade To +100 degree centigrade
This Steel Wire Hose is mainly intended for diverse applications in the fields of forestry, agriculture, construction and others. It is integrated with a bend radius capability which allows an intuitive mounting and routing. This also enables a longer hose life in various curving applications and some of the bent tube fitting needs.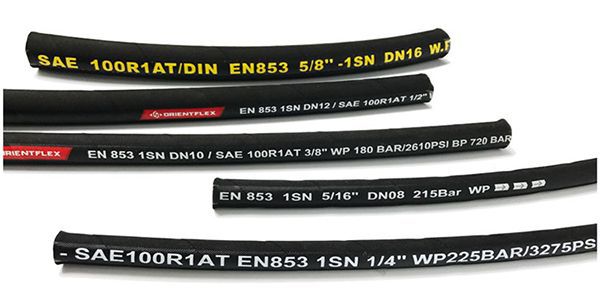 It is enclosed with a black and oil resistant cover which is also integrated with a synthetic rubber. Its cover also comes with a color-optional line of marking. Its tube is black in color and is built with an oil-resistant tube material which enables high pressure and high temperature functionality.
Hydraulic Hose Sae R1 Features:
● For Petroleum Base Hydraulic Fluids
● High Pressure, Single Steel Braid Reinforced Hydraulic Hose
● Seamless Oil Resistance Synthetic Rubber
● 1 High Tensile Steel Wire Braid
● Black, Oil, Weather and Abrasion Resistant Synthetic Rubber
● MSHA Approved
● Safety Factor: 4:1
Hydraulic Hose Sae R1 Temperature Range:
● -40°F to 212°F (-40°C to 100°C)
● Intermittent Service 248°F (120°C)
● Maximum Temperature Recommended for Water Base Hydraulic Fluid 158°F (70°C)
● Maximum Temperature Recommended for Air 140°F (60°C)
● Use Couplings HF 43, HF HY, HF BW, HF U, HF Z or HF TTC Series