Hydraulic Hose SAE R4 Construction:
Tube: oil resistant synthetic rubber.
Reinforcement: high tensile textile cords with embedded steel helix wire.
Cover compound : abrasion, ozone and hydrocarbon resistant synthetic rubber.
Constant Operation: -40 °C +100 °C (-40 °F +212 °F)
Air Max T = +70 °C (+160 °F)
Safety Factor: 1:4
Performance: Good oil, heat and anti-aging properties, under pressure, pulse superior performance.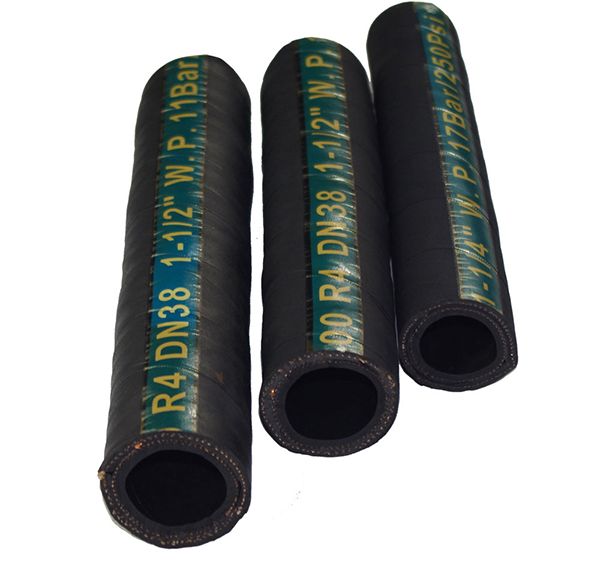 Hydraulic Hose SAE R4 Application:
Mineral,Mine hydraulic support, oil field exploitation, suitable for engineering construction, lifting transport, metallurgy, forging press, mining equipment, ships, injection molding machinery, agricultural machinery. fuel, oil and hydraulic fluids with 50% max aromatic content suction and delivery. Specially designed for hydraulic oil return lines.
Hydraulic Hose SAE R4 Features:
1.It is oil resistant, heat resistant, aging resistant performance;
2. Bearing high pressure, pulse superior performance;
3.The length of hose we can do under your request.
Hydraulic Hose SAE R4 Advantage:
1. Selection of synthetic rubber hose with special made, with excellent oil resistance, heat resistance, anti-aging properties.
2. Hose for the high-pressure and superior pulse properties.
3. Hose combination of close,use soft,small defomation under pressure.
Packing Details: The hoses are usually wrapped in plastic film .In addition, we can also pack according to the customer's requirements.
Delivery Details: 5-20 days after the customer place the order(It depends on the number of customer orders and inventory)